The first thing you need to know is who you're playing, and what your chances are.  Find that our by reading our Vegas Odds article.
Weather Forecast
I'm not going to lie, right now the weather doesn't look great.  85% chance for precipitation over our bocce filed at 6pm with a chance for a thunderstorm.  But, its also not so dire that I'm ready to cancel the day right now.  Lets all meet at the field at 6pm and judge.  If its really bad we will cancel everything and reschedule for Saturday at 10 am.  If its not too bad we will play, and you and the team you are playing will have an opportunity to agree to reschedule for Saturday at 10 am if you'd prefer.
So to sum up we are at least meeting at the field at 6 pm today!  No call no show still = forfeit.  We will decide as a group how to proceed depending on how the weather plays out.
Bocce Forecast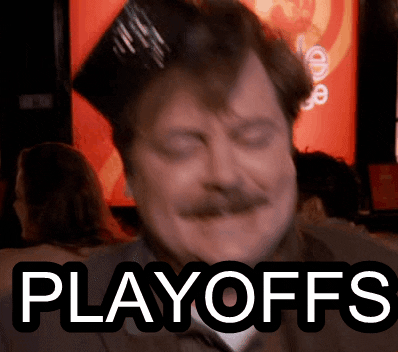 This is the playoffs so instead of playing all 3 games no matter what you are playing a best of 3 series (you don't need to play the third if you've won or lost the first two).  We're also not keeping any individual stats, so unless you really want to know what you did, don't worry about it.
All winners will go on to play at 11am Saturday in our all day tournament which will determine who is champion for the year! Unless of course your game gets rescheduled to Saturday, in which case it will start at 10am.
If you have already lost or lose before Saturday, make sure to stop by the field around 5pm.  You can see who won it all, get free drinks and food, and celebrate a new season.
If you won an award show up 5pm Saturday to pick it up!!!
After the Season
If you want the fun to continue after the season, we have 3 options.
#1 Coleman's Trivia.  If you care about the league and want to see it continue and thrive, or if you just have a good idea or rule you think we should implement.  Please meet us at Coleman's on Tuesday 8/21 (first Tuesday there is no bocce) at 7pm.  We will discuss ideas to improve the league for next year, have a drink or two, and dominate everybody else at trivia (obviously).
#2 Fantasy Football.  There are still a few slots open!  We will draft 8/31.  Do a really short speed bocce tournament to determine draft order and have some fun selecting our teams!  Got to email paul@turbobocce.com if you want to be involved with this!
#3
Italian Fest
.  The final leg of the bocce triple crown takes play Saturday September 15th in front of City Hall.  Teams of 4.