As the Pointer Sisters once sang and Jesse Spano once sang/cried "I'm so excited, and I just can't hide it!"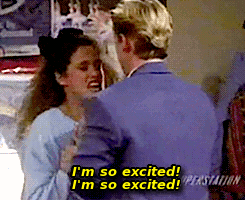 I assume they were both talking about the start of bocce season.
One of the joys of opening day is breaking out a brand new bocce set.
Look how brand spanking new that bocce set is – never been thrown before. Those balls will break a lot of hearts over the years.
I took it upon myself to film the very first shot taken with the new sets. The video is terrible, the shot is decent considering I was filming and shooting at the same time, but the best part, really, is My Pony by Ginuine playing in the background. Enjoy history being made.
I was alone setting up when I shot that video, but in no time the field was full of people playing bocce, enjoying the perfect weather, and having fun.
Trivia: Can you name the relation the song in this video has to bocce?
Opening week is often filled with extremes, and this was no exception. Lots of highs and lows. I'll highlight a few of each here. My hope is that both the teams that lost and the teams that won shared a heck of a fun experience.
A great place to start is with our defending champions Black Jesus, who are generally associated with high and low extremes. They took on 2014 runner up Rob Calvani and his new rookie partner.
John Bauman continued where he left off at the end of last season, which is playing some of the best bocce that's ever been played. He scored 20 and lead defending champions Black Jesus to three wins. Tough opening game for a team with a rookie player, but there is no doubt that better things lie ahead of Rob and Jon.
Check out this sweet shot.
Matt Foster made that shot and enough others to score 16 points and lead his team, Ralph Bocce-O, to two wins over Salty Bocce balls.
Speaking of highs, Los Moppines, Droppin Balls, and Bacce Di each had impressive 3-0 weeks against quality competition. Los Moppines beat last year's final four team Breakfast of Champions (damn them), Droppin Balls beat last year's elite 8 team Bocce Against the Machine, and Bacce Di beat last year's #5 team 2 ½ kittens. Impressive wins, and tough losses . . . I should know, being one of those teams that failed worse than the garlic and mirror store I tried opening in Transylvania.
In other notable news, team G and T's made the most of the one win they had on the day by amassing a 10-0 lead and making a run at earning only the 8th Buzz Saw in Turbo Bocce history (if you don't know what a Buzz Saw is, look it up in the Newbie's dictionary HERE).  Unfortunately they fell shy of getting the four point round you need to get for a Buzz Saw.  For the record we do have an official Buzz Saw sound effect (thanks to Jim Whipple) but I will NOT be breaking it out until an actual Buzz Saw is accomplished.
Onto the bounty game. If you don't already know, Turbo Bocce (more specifically the random number generator on my phone) selects one team at random as the bounty team. If you beat them you win a prize.
This week the Blonde Bocce Bitches took on Jeff & Mike in the bounty game, and it was an exciting one. Jeff & Mike one the first game big, 11-3, but the Blond Bocce Bitches came back strong to win the second game 11-6. With the series tied 1-1 the bounty prize would go to whoever won the third game. As it turned out Jeff & Mike won the series and the prize 11-7. As you will see Blonde Bocce Bitches shot well, but Jeff & Mike shot just a little bit better.
20 Point Club (all time record is 26)
Mike Aylesworth – Droppin Balls – 20
Dave Jenkett – Ballz Deeper – 20
John Bauman – Black Jesus – 20
Honorable mention to Allison Bodine, Caity Ferrari, Greg Griffo, and Scott Popp who scored 19 a piece.
5 Bocce Club (all time record is 16)
Angelo Isgro – Kiss My Ace – 8
Eric Szantai – Ball and Chain – 8
Jeff Weiner – Jeff & Mike – 7
Sherri Walikis – Blonde Bocce Bitches – 7 (last year's bocce winner, off to another strong start)
Caity Ferrari – Buff Ave Babes – 6
Josh Wheeler – Knickerbocces – 6
Ariel Tranchell – Melissa & Ariel – 5
Jim Lowrey – DaVinci – 5
Sean Hughes – Knickerbocces – 5
Paul Colabufo – Breakfast of Champions – 5
Multiple Ace Club (all time record is 11)
Bryan Mullane – Los Moppines – 3
Greg Griffo – Los Moppines – 3
Eric Szantai – Ball and Chain – 3
Monica Angelosanto – G and T's – 3
Scott Mead – Big LaBocce – 3
Allison Bodine, Jeff Williams, Justin McLaughlin, Kate Mead, Lauren Benack, Sean Flynn, and Sherri Wilikis – 2
We also give a Rookie of the Year award to the rookie with the highest point total, and right now Caity Ferarri of Buff Ave Babes is leading the race with 19 points.  Megan Sovocool of Dothrookies is in second with 16 points.
We are always looking for new and better ways to tell the stories that happen during boccce, so I am going to try giving up the camera to different people throughout the year in the hopes of achieving a different perspective (and also because I'm a terrible photographer). Thanks to Tom Montague for taking the pics. He even threw in a few slow-mo pics, which taught me a valuable lesson . . . bocce is even more awesome in slow motion than it is at regular speed. My favorite is the butterfly going by in the second video!
Here is some advice to hold you over until next week: There are two things I am sure of in this world, one is that every cartoon character cooks all their food in a big black pot with carrots and celery, and two is that you can get an all you can eat buffet after bocce next week for $4, but ONLY if you let me know BEFORE Tuesday, paul@turbobocce.com is a great way to get hold of me.
As always there are more pics than were included in this recap.  If you want to see them all they are stored on our Facebook page HERE.