I'm going to start this week's recap off by bragging, not about my bocce skills but about my amazing weather predicting skills.
Here is what I wrote on Facebook about five hours before bocce started . . .
FYI my super accurate weather predicting machine only available to bocce commissioners (and anybody with internet access) says there will be clear skies during bocce tonight! You know God loves bocce. We haven't had to play in the rain since like 2014.
Check out this pic . . . turns out I was right. Sunny skies, and not a drop of rain the entire time we played bocce. I'm telling you I've got this weather predicting thing down!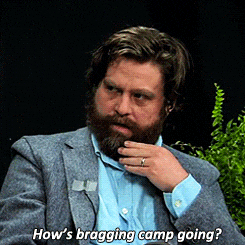 Just in case there was rain, I bought drink chips for everybody in the league as a "thanks for playing in the rain" gift, so those who came got the best of both worlds, perfect weather, plus a free drink at the Ukrainian Home! Thanks for coming out!
One more quick note before I get to the bocce highlights. If you came to bocce you definitely noticed Jenna Bulluck walking up and down the field giving out beers and shots. This was not a one time thing. Its going to happen every week. We've been looking for ways to provide more beer and drinks options at the bocce field, but we needed a bartender to handle everything and deliver drinks to people and Jenna stepped up to the plate. She is raising money for St. Jude's, a wonderful charity that provides medical care to sick children, so any time you buy a drink from her you're actually helping sick kids! You can buy a beer for the day for $10, and you can also buy individual drinks and shots. We should have 3-4 different beers, and 1-2 different shots each week, so there are a lot more options now. The only catch is you've got to pay with cash. There are ATM's at Nibsy's and the Ukrainian Home if you happen to need them. For those that already bought beer for the season, you still get that, but now you have someone to deliver the beer to you while you play!!
On to bocce highlights. Sometimes the hardest point to get is the second point, where you already have a point in hand and you are worried about making a debocce. Here's a wonderful example of earning that second point by Kevin Curerri. His team, Salty Bocce Balls 2.0, lost the series to Kiss My Ace two games to one, but all three games were tight, and both teams combined tallied an astouding 31 bocces, maybe partially because of Kiss My Ace's 6 team aces?
Here's an ace from Robb Jones. He's really good, and his See and Destroy teammate leads the league in scoring. No wonder they are 5-1. The Alcoballics made a lot of great shots in the fight, but came up just short.
Speaking of aces. Here's a great one from Nicole Vandusen of Dangerous Duo. Her team lost a really close battle with Burkett two games to one, where both games they lost were only by two points and could have gone either way. Mike Burkett lead his team to victory with a big 19 points, a huge improvement over week one (his first week ever playing Turbo Bocce) where he only scored 1 point. I see big things in the future for both teams.
One of the best games of the day took place between Dropping Balls and Amerika'z Most wanted. Droppin Balls won the frist game 11-2, but Amerika'z Most Wanted came back to win the next two games due to shots like this by Andy Ingalls.
Onto individual stats . . .
20 Point Club (season record for points 200)
Tim Maynard – Tuesday Night Lights – 22 (season high!)
Mark Streiff – Seek and Destroy – 21
Honorable mention to: Angela Donahoe, Bernard LeVine, and Mike Burkett – 19
5 Bocce Club (season record 82)
Jayson Gray – Kiss My Ace – 9
Marty McDurmott – Theo's – 9
Tim Boesch – Salty Bocce Balls 2.0 – 8
Angelo Isgro – Kiss My Ace – 8
Kristen Tuper – Mean Girls – 7
Kevin Curerri – Salty Bocce Balls 2.0 – 6
Nick Cortes – Draggin BallZ – 6
Matt Wieczorek – Theo's – 6
Allison Bodine – Double A's – 6
Kim Pomeroy – Blonde Bocce Bitches – 5
3 Ace Club
Kim Pomeroy – Blonde Bocce Bitches – 4
Allison Bodine – Double A's – 3
Jayson Gray – Kiss My Ace – 3
Angelo Isgro – Kiss My Ace – 3
Bryan Mullane – Los Moppines – 3
Kate Mead – G & T's – 3
Multiple Turbo Round Wins Club
Angela Donahoe – Double A's – 3
Angelo Isgro – Kiss My Ace – 2
Fun Fake Facts: Here's some interesting trivia you can share at parties. It will be news to everybody because its fake, but they will still believe you and think you're interesting.
Did you know that Prince uses the pseudonym Prince because his real name is Michael Jackson and that name was already taken, by Michael Jackson.
Shot of the day! 
Don't forget to follow us on Facebook, and don't forget the Blind Draw Tournament we've got coming up on Saturday June 6th.