Was it just me, or was Wednesday an extra fun day of bocce? As the kids say it was "lit"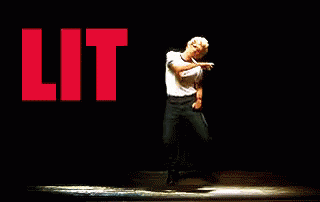 Did I do that right?
Anyway, I'm more excited about bocce than Jessie Spano on caffeine pills, so lets get to the highlights.
In this game rookies Betty & Bo took on Thunderballz, one of the best teams in the league. Betty & Bo showed huge improvement in this game and made each game close,even winning the first 12-9. When Sara needs to make shots like this to beat you, then you know you're doing something right. The problem with playing Thunderballz, of course, is that they make shots like this one a lot.
When Buzzed Saws took on Breakfast of Champions it was a game of huge swings and high scoring rounds. Here's Paige knocking a third point in. Breakfast of Champions was able to win the series but only by playing very very good bocce.
Amanda and Danielle played a fun game against Michaela and Jon of TBD, and were able to win their first series of the season. Here's a highlight of a game going up hill, where a lot's going on. You can usually count on lots of bocces and aces when playing TBD. This shot by Jon was everything but.
Matt and Matt of Ball Busters played a tough game against last year's runner ups Elite Ball Handlers, and unfortunately had to deal with shots like this one from Ken Brenner.
Its always a big deal when the defending champions lose a series. This is now their third year together and its only happened one other time. This week Kevin and Dino from Gone Fishing got John and Robb from Balls of fury two games to one. That's a great accomplishment, congratulations guys. Now you can hope you don't have to face them again in the playoffs!
Onto individual stats because just like a ghost at prom, sometimes its better to have no body with you. Okay that's a pretty stupid joke even by my standards. I might have to take a day off work to think up a better individual themed joke for next week.
20 Point Club
Greg Griffo – Two Testies and a Microphone – 21
Honorable Mention:
Davd Blakes – Betty & Bo – 19
Jacob Alstadt – Thunderballz – 19
5 Bocce Club
Dino Francechi – Gone Fishing – 7
David Blakes – Betty & Bo – 7
Mark Avery Claridge – Elite Ball Handlers – 5
Jacob Alstadt – Thunderballz – 5
Multiple Ace Club
Sara Tully – Thunderballz – 4
Denise Baker – Betty & Bo – 3
Dave Varsik – Like a Botch – 3
Mark Avery Claridge – Elite Ball Handlers – 3
Paul Colabufo – Two Testies and a Microphone – 2
It was a big day for aces, that's an indication that the quality of play was high!
Multiple Turbo Round Wins Club
Dave Varsik – Like a Botch – 2
And now for the shot of the day! Aerial bocces of all varieties are hard, but the hardest thing of all is to get your ball to stop right where it hits their ball thus replacing their ball with yours. It takes a perfect hit, and DJ Demers managed to pull it off!
Finally a bit of advice to hold you over until we meet again:
Men think about sex every seven seconds, which is why I recommend eating your hotdog in six seconds or less . . . before anything gets weird.